Discover more from Black Books, Black Minds Global Book Community
Igniting a New World of Community, Connection, and Conversation, One Book at a Time
BOOKing Time To Read Into The Life of Frederick Douglass
Frederick Douglass is a black historical figure who I have long held in high esteem. Yet, despite my curiosity, I knew so little about his inner life. 
Last year I downloaded a book about him on my digital reader. I read it with rapt attention. His story was a huge eye-opener. 
Born into slavery in 1818, Douglass became one of the foremost intellectuals in the U.S. — a statesman, author, intellectual, and thought-leader who helped ignite the battle for racial justice throughout our nation.
Unlike many other prominent abolitionists, Douglass is a huge champion of the U.S. Constitution. He insisted that it was essentially an anti-slavery document that provided guarantees for individual rights for all Americans irrespective of race.
Enter the book Frederick Douglass: Self-Made Man by Timothy Sandefur  provides a deep dive into the inner mindset of one of America's most cherished thinkers. It explores Douglass' journey as a trailblazer for Black American in addressing the ugly stain of racism and segregation over the course of our nation's history. 
In an excerpt from the book, author Timothy Sandefur had this to say:
"A curious feature of existing books about Douglass is that they often focus more on his heroic personal story than on the ideas that formed the basis of all his work. In one sense, that's understandable: few American biographies are as inspiring as his. But Douglass was also a scholar and writer of immense skill and a political leader whose actions were consistently guided by his commitment to the principles articulated in the Declaration of Independence: all people are born free and equal, with inherent rights, which nobody may justly violate. Each person owns himself (or herself; Douglass was an outspoken feminist), and nobody is entitled to dictate our choices."
According to Sandefur, Douglass' life is exquisitely captured in a quote from a lecture entitled "Self-Made Men," one that the great orator delivered over fifty times during the latter half of his life.
"Personal independence is a virtue," Douglass exhorted, "but there can be no independence without a large share of self-dependence, and this virtue cannot be bestowed. It must be developed from within."
Vestiges of this self-made theme are tied to many leaders in our nation's history. In fact, it was one of the founding fathers of the U.S., Benjamin Franklin who is often credited with creating this concept.
Today, the self-made man theme has been brought into question by many Black Americans who feel victimized by deeply entrenched systems of racism and oppression. This cynicism fosters the belief that a person cannot truly become whatever he or she chooses by pulling themselves up by their own bootstraps.
Douglass believed that such thinking was bunk, a view informed by his own rise from the dark recesses of slavery to become an orator, author, newspaper publisher, and famous abolitionist. He asserted that what was possible for him was possible for anyone who had a willingness and commitment to work hard.
One example cited in the book which exemplified Douglass' determination in overcoming enormous odds was a fight he had one afternoon with his slave owner.
The experience in Douglass' words:
 "…..was a resurrection from the dark and pestiferous tomb of slavery, to the heaven of comparative freedom. I was no longer a servile coward. . . . I had reached the point at which I was not afraid to die. This spirit made me a freeman in fact, though I still remained a slave in form."
This experience became a foundational piece of Douglass's story illustrating how he overcame near-impossible odds to succeed. 
Says Sandefur:
"Those who desired freedom had to prove themselves worthy of it by struggle and self-determination. To be fully human meant to command oneself and to hazard life for the reward of living."
Douglass's political views are "classically liberal," what we refer to today as libertarian. In other words, he strikes a nice balance between his conservative and liberal views.
From a broader context, Douglass embodies a commitment to economic freedom and individual rights relative to private property. In other words, a person's right to freedom ensues from their natural, inalienable ownership of their body, mind, and material property.
This book underscores Douglass's unwavering encouragement for each of us to stretch beyond false limitations and truly become the men and women we were meant to be.
---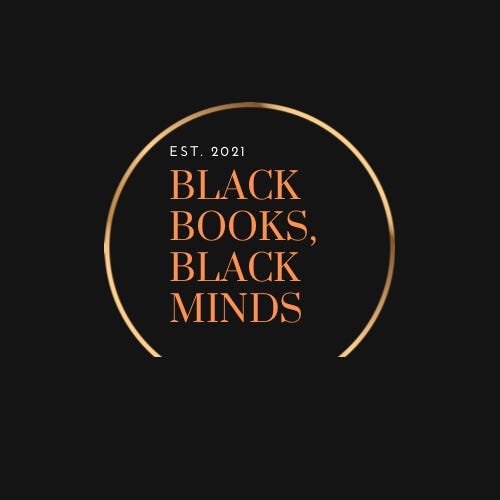 An Invitation From Diamond-Michael Scott

"Black Books, Black Minds" is a key foundation of my Great Books, Great Minds" passion project. For me, it's a labor of love fueled by the endless hours of work I put into researching and writing these feature articles. My aim is to ignite a new world of community, connection, and belongingness through the rich trove of Black History books, thought leaders, and authors we unearth.

So if you are enjoying this digital newsletter, find it valuable, and savor world-class book experience featuring non-fiction authors and book evangelists on Black History themes, then please consider becoming a paid member supporter at $6.00/month or $60.00/year
Beginning every Friday in June, paid member supporters will received exclusive "Voice of Black Minds" 5 minute audio book recommendations each week from the library of Diamond-Michael Scott.