Discover more from Black Books, Black Minds Global Book Community
Igniting a New World of Community, Connection, and Conversation, One Book at a Time
The Black Panther Party's Revolutionary Impact on Racial Justice in America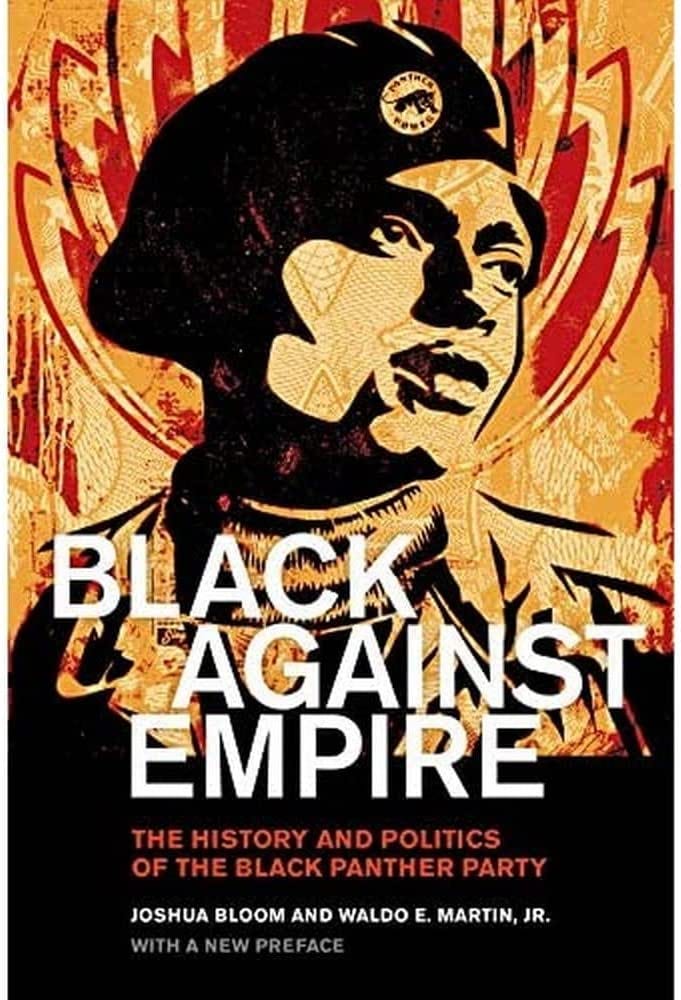 In "Black Against Empire: The History and Politics of the Black Panther Party" authors Waldo E. Martin and Joshua Bloom set the record straight about one of the most mis-understood and feared groups in American history. It's a riveting read, arguably the most comprehensive and thorough look at the BPP movement and its demise.
The genesis of the Black Panther Party for Self-Defense (BPP) dates back to October 1966 when two college students Huey P, Newton and Bobby Seale formed the group in Oakland, California. Through the cultivation of a Black power ideology tied to nationalism, socialism, and armed self-defense, their views have been considered by many to be revolutionary and extreme.  
Black Against Empire chronicles how the party broke away from the integrationist and nonviolent protest approach popularized by Dr. Martin Luther King Jr. and other civil rights leaders of a more conservative ilk. The black panther animal, inspired by the athletic mascot of Clark University, a historical Black college in Atlanta, became the symbol for the party. It had been previously used by the Lowndes County Freedom Organization, an independent Black political party founded in 1965 in Alabama.
In ensuing years the Panther's revolutionary ways garnered waves of media attention. Having faced harsh public opinion as well as pushback by powerful political and government factions the story of the Panthers for many years has been clouded in mystery. 
Despite the daunting task of piecing together often conflicting accounts and archival records, the author duo of Martin and Bloom did a meticulous job of gathering Panther literature, firsthand accounts from former members, and declassified police and Cointelpro documents from the FBI. Their exegesis has resulted in a tightly woven narrative of not only the Party history and evolution, but the swirling revolutionary and political backdrop of the 60's and 70's during which the Black Panther Party saw its ascension and eventual decline.  
The authors have argued that the core ideological foundation cultivated by the party's founders Huey Newton and Bobby Seale exposed the underpinnings of capitalistic exploitation and police power that has long impacted the progress of Black Americans.
As 60's college students in the Oakland area, Seale and Newton advocated a philosophy of self-defense, arming themselves and serving as community protectors against brutal acts on the part of the police against Black Americans. During that period, it was legal for Californians to carry firearms as long as they were in full view. 
Their frequent standoffs with police ended with Newton and Seale lecturing them on the letter of the law. It is reported that Newton once said to an officer
"What's the matter with you?" You're supposed to be people enforcing the law, and here you are, ready to violate my constitutional rights.... You can't have my gun. The only way you're gonna get it from me is to try and take it."
The book highlights how the newly formed Black Panther Party led by the two frequently went toe to toe with the police, challenging them on their methods and intent. As interest in the group began to swell in Black communities, the U.S. federal government along with a subset of "White America" grew uncomfortable, fearing the effectiveness of their tactics. 
Over time, the Black Panthers became mired in a bundle of contradictions. A group that initially began with the intent of defending Black communities from the often unrestrained approaches on the part of the police as well as broader capitalistic exploitation, the Panther's allegedly went on to commit crimes and murder other Black people.
The book asserts that a number of these crimes were fueled and instigated  by outside forces hostile to the Panther cause. As a reader, trying to differentiate the actual wrongdoings from those perpetuated by small bands of politically orchestrated individuals who had infiltrated the party in an attempt to neutralize their threat made for a mind-bending exercise. If you like sinister plots, mysterious characters, and unlocking the work of government spies then this book will likely resonate with you. 
I am well aware that the radicalized history of the Black Panther Party evokes disdain on the part of many White Americans. Images of guns, berets, and leather jackets conjure up visions of  unrestrained vigilantes parading through our nation's cities and communities creating conflict and upheaval. Despite these perceptions, there are unrecognized achievements of the Black Panther, in terms of their positive advocacy for Black communities.  
In reading the book, one discovery that took me by surprise was that the Black Panthers in the 70's were instrumental in bringing acupuncture as a wellness practice to the U.S. In 1972 co-founder Huey P Newton visited China, returning with a community based model for this Chinese health practice. The following video explains the evolution of their broader health care model for Black communities in America.
And in another notable piece of Black Panther history, I learned that from 1969 through the early 1970s their Free Breakfast for School Children Program fed tens of thousands of hungry kids. It was among the many social programs created by the party that helped sow the seed for free breakfast programs, housing cooperatives, legal aid, and similar types of programs that exist to this day.  
Despite these and other progressive programs, the Black Panther legacy has been largely marginalized and misunderstood. The tenet of self-reliance that was foundational to the Panther's core philosophy was often seen as antithetical to the organization's often violent, racist, and anarchical acts, a perspective that Panther's did little to dispel.
Nevertheless, the book "Black Against Empire" offers, in my view, a thoughtful, fair and balanced perspective on both the positives and negatives of the party. The authors do a good job of dispelling some of the myths involving the Panthers through their raw perspectives on many of the key figures involved in the movement. 
All in all, it is a fascinating work chronicling the story of one of the more controversial, polarizing, and mysterious racial justice organizations in our nation's history. As a reader you will enjoy a sweeping account of revolution, violence, resistance, and community action, all tied to a powerful movement whose revolutionary impact is still being realized today. 
---
An Invitation From Diamond-Michael Scott

"Black Books, Black Minds" is a key foundation of my Great Books, Great Minds" passion project. For me, it's a labor of love fueled by the endless hours of work I put into researching and writing these feature articles. My aim is to ignite a new world of community, connection, and belongingness through the rich trove of Black History books, thought leaders, and authors we unearth.

So if you are enjoying this digital newsletter, find it valuable, and savor world-class book experience featuring non-fiction authors and book evangelists on Black History themes, then please consider becoming a paid member supporter at $6.00/month or $60.00/year
Beginning every Friday in June, paid member supporters will received exclusive "Voice of Black Minds" 5 minute audio book recommendations each week from the library of Diamond-Michael Scott.